Description
Edit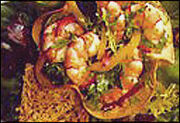 Ingredients
Edit
Directions
Edit
To make dressing, combine broth, vinegar, olive oil, Sugar, mustard and garlic in a small sauce pan and bring to a boil.
Remove from heat and keep warm.
To make tortilla bowls, place each tortilla into a 7 inch metal or glass oven proof bowl.
Bake at 400 degrees F for 10 minutes or until crisp.
To assemble, combine Shrimp, bell peppers and half of the greens in a large bowl.
Pour warm dressing over salad and toss.
Place 1 cup salad mixture into tortilla bowls and sprinkle with chives.
Place remaining greens on serving plate.
Other Links
Edit
See also
Edit
Ad blocker interference detected!
Wikia is a free-to-use site that makes money from advertising. We have a modified experience for viewers using ad blockers

Wikia is not accessible if you've made further modifications. Remove the custom ad blocker rule(s) and the page will load as expected.