Description
Edit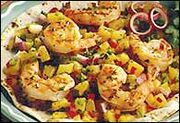 Ingredients
Edit
Directions
Edit
Combine the pineapple, peppers, Onion, cilantro, parsley, chile and 1/2 of the oil and lime juice together in a medium glass bowl.
Cover and chill for 50 minutes.
Prepare the BBQ
Combine the remaining oil and lime juice together and add Shrimp; toss to coat with marinade.
Grill until opaque, about 1 minute per side.
Grill tortillas on each side for 30 seconds.
Place 5 Shrimp onto each tortilla. Spoon on salsa and serve.
Ad blocker interference detected!
Wikia is a free-to-use site that makes money from advertising. We have a modified experience for viewers using ad blockers

Wikia is not accessible if you've made further modifications. Remove the custom ad blocker rule(s) and the page will load as expected.