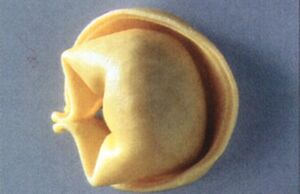 About Tortelloni
Edit
Wikipedia Article About Tortelloni on Wikipedia
Tortelloni is a larger version of tortellini, and is usually stuffed with Ricotta cheese and leaf vegetables, such as spinach. If tortelloni is not available agnolotti, cappelletti or ravioli can be substituted.
You can find packed refrigerated or frozen tortellini and tortelloni everywhere in the world, especially where Italian communities have a certain relief. Tortellini and tortelloni are made in special industrial lines supplied, all over the world, by Italian companies such as Arienti & Cattaneo, Ima, Ostoni, Zamboni, etc.; "fresh" packed tortellini and tortelloni have usually 7 weeks of shelf-life.
Ad blocker interference detected!
Wikia is a free-to-use site that makes money from advertising. We have a modified experience for viewers using ad blockers

Wikia is not accessible if you've made further modifications. Remove the custom ad blocker rule(s) and the page will load as expected.