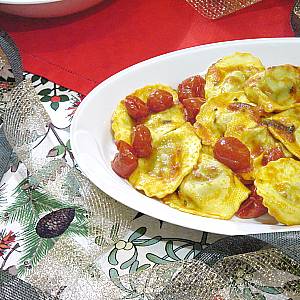 Name variations
Edit
About Tortelli
Edit
Tortelli is among the earliest known stuffed pasta made with eggs. Tortelli are similar to ravioli. They are made in several different shapes, which may be square like ravioli, half circle-shaped like agnolotti, or twisted, like tortellini.
Stuffed pasta that is small and round in shape or shaped like a half circle with an edging that has an embossed or ruffled appearance. The pasta is typically 1 to 2 inches in diameter and if shaped like a half circle, it becomes similar to agnolotti pasta. Tortelli may also be referred to as anolini pasta.
Ad blocker interference detected!
Wikia is a free-to-use site that makes money from advertising. We have a modified experience for viewers using ad blockers

Wikia is not accessible if you've made further modifications. Remove the custom ad blocker rule(s) and the page will load as expected.