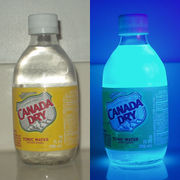 Name Variations
Edit
About Tonic water
Edit
Wikipedia Article About Tonic water on Wikipedia
Tonic water (or Indian tonic water) is a fizzy soft drink flavoured with quinine. The drink gains its name from the medicinal effects of this slightly bitter flavouring.
The quinine was added to the drink as a prophylactic against malaria, since it was originally intended for consumption in tropical areas of India and Africa where that disease is endemic.
Ad blocker interference detected!
Wikia is a free-to-use site that makes money from advertising. We have a modified experience for viewers using ad blockers

Wikia is not accessible if you've made further modifications. Remove the custom ad blocker rule(s) and the page will load as expected.