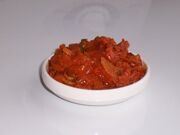 Ingredients
Edit
Directions
Edit
Recipe by Hooked on Heat
Edit
The blog created by Meenakshi Agarwal is filled with, as the blogger says, lots of spice and everything nice. The pleasant design of the blog is matched by a huge variety of unique content – something you can rarely say about websites or blogs today – facts which make Hooked on Heat a valuable resource for anyone interested in Indian food.
Here you will find information on hundreds of Indian dishes, starting from Dips, Sauces and Chutneys, going through Soups and Salads and passing through Delectable Desserts and other food categories that will make your mouth water. You can reach this wealth of information at the following URL: hookedonheat.blogspot.com
Ad blocker interference detected!
Wikia is a free-to-use site that makes money from advertising. We have a modified experience for viewers using ad blockers

Wikia is not accessible if you've made further modifications. Remove the custom ad blocker rule(s) and the page will load as expected.