Description
Edit
I had never heard of this dish before tasting it last summer at my fiancee's house. Then, everywhere I went it began to pop up. Its simple, down-to-earth charm depends upon the freshness of the ingredients - I can't wait for tomato season to return!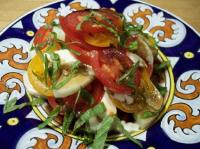 Ingredients
Edit
Directions
Edit
Combine vinegar and oil in small bowl; whisk in garlic, sugar and red pepper flakes.
Arrange in individual stacks, or together on a serving platter, as follows: cucumber, tomato, onion, mozzarella.
Repeat layers as necessary.
Scatter basil leaves liberally.
Drizzle vinaigrette; best if flavors are left to marinate for one hour.
Ad blocker interference detected!
Wikia is a free-to-use site that makes money from advertising. We have a modified experience for viewers using ad blockers

Wikia is not accessible if you've made further modifications. Remove the custom ad blocker rule(s) and the page will load as expected.