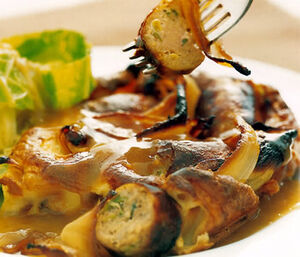 This comically named British dish consists of a Yorkshire Pudding batter to which small cooked link sausages are added. The dish is baked until the batter puffs up around the sausages (making them the toads in the hole) and becomes golden brown. It's most often served for lunch or dinner.
Also see
Edit
Ad blocker interference detected!
Wikia is a free-to-use site that makes money from advertising. We have a modified experience for viewers using ad blockers

Wikia is not accessible if you've made further modifications. Remove the custom ad blocker rule(s) and the page will load as expected.