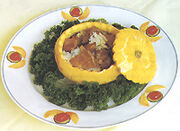 Ingredients
Edit
Directions
Edit
Preheat oven to 375 °F.
Pour in the wine and stock and bring to a boil.
Reduce heat and simmer for 20 minutes.
Add more stock if necessary.
Grind the walnuts finely.
Drain off any excess liquid and chop thoroughly.
When buckwheat is cooked, remove pan from heat and let cool slightly.
Mix in the herbs and mix well.
Season to taste.
Grease a 1 lb loaf tin and press in the mixture.
Bake for 50 to 60 minutes till the top is dark brown and feels firm to the touch.
Let it stand for 10 minutes, then turn out onto a plate.
Serve with vegetables and greens.
Ad blocker interference detected!
Wikia is a free-to-use site that makes money from advertising. We have a modified experience for viewers using ad blockers

Wikia is not accessible if you've made further modifications. Remove the custom ad blocker rule(s) and the page will load as expected.