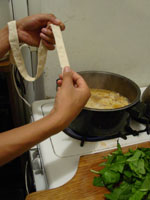 Description
Edit
Called Tse Ping, this is a vegetarian version of a dish often served at weddings and other Tibetan celebrations.
Ingredients
Edit
Directions
Edit
Cover the noodles in very hot water and allow to sit for 20 minutes, or until soft.
In another bowl, pour boiling water over the wood ears and allow them to sit for 20 minutes also.
Boil the potatoes for 10 minutes, then drain.
When able to handle, slice the potatoes like fries.
At the end of twenty minutes, drain the wood ears and cut into thin slices.
Add the potatoes and stir to coat them with the spices.
Then add the Peas, sliced wood ears, bell pepper, and water.
Drain the noodles, chop into smaller pieces (about into thirds), and add to the pan.
Cook for 3-5 minutes more, or until heated through.
Ad blocker interference detected!
Wikia is a free-to-use site that makes money from advertising. We have a modified experience for viewers using ad blockers

Wikia is not accessible if you've made further modifications. Remove the custom ad blocker rule(s) and the page will load as expected.