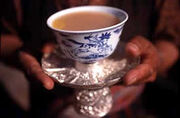 Ingredients
Edit
Directions
Edit
Boil tea in 4 cups of water for about 10 minutes.
Remove from flame.
Remove the tea leaves from the liquid by pouring through a sieve.
Add half-and-half and butter to the strained tea.
Add salt to taste (Tibetans like it very salty).
This will cool the tea, so warm it briefly over a low flame, making sure the tea doesn't boil.
For a frothy tea, pour it back and forth between two containers a few times.
Ad blocker interference detected!
Wikia is a free-to-use site that makes money from advertising. We have a modified experience for viewers using ad blockers

Wikia is not accessible if you've made further modifications. Remove the custom ad blocker rule(s) and the page will load as expected.