Description
Edit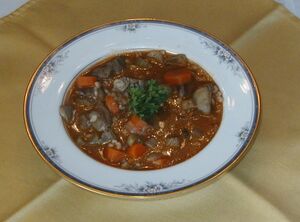 Barley can thrive even on marginal land. You can get pot barley at health food stores. If possible avoid the pearled, or polished, barley, which is less tasty and less nutritious.
Ingredients
Edit
Directions
Edit
Cut up enough mushrooms to measure 2 cups.
Melt 2 tablespoons butter (yak butter if available) in a large saucepan and stir in vegetables until they are well coated.
Continue cooking over medium heat until softened, stirring occasionally.
Mix in ¼ cup pot barley and then add 4 cups water (preferable from the nearest mountain spring).
Bring rapidly to a boil, then simmer about an hour, covered.
Just before it is done, add 1 tablespoon shoyu (soy sauce) and a grind or so of pepper, if desired.
When the soup is ready, it should be of a chowder-like thickness and the grains should be soft but chewy.
There will be a golden sheen on the surface and the heavenly smell will waft you across the Himalayas.
Ad blocker interference detected!
Wikia is a free-to-use site that makes money from advertising. We have a modified experience for viewers using ad blockers

Wikia is not accessible if you've made further modifications. Remove the custom ad blocker rule(s) and the page will load as expected.