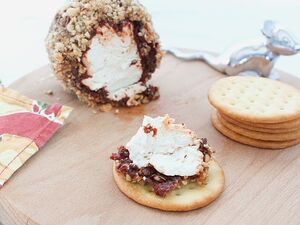 Ingredients
Edit
1 cup walnuts
4 oz. oil-packed sundried tomatoes
1/4 tsp. kosher salt
1 (14 oz.) log goat cheese
Directions
Edit
Pulse the walnuts in a small food processor until chopped. Pour into a shallow bowl and reserve. Pulse the tomatoes and salt in the food processor until a smooth paste forms. Mold the goat cheese log into a ball with your hands, then press the sundried tomato paste onto the ball until it's fully covered. Roll the ball in the walnuts until fully covered once again. Serve immediately or refrigerate until needed. The ball will keep, chilled, for a week.
Ad blocker interference detected!
Wikia is a free-to-use site that makes money from advertising. We have a modified experience for viewers using ad blockers

Wikia is not accessible if you've made further modifications. Remove the custom ad blocker rule(s) and the page will load as expected.