Prep Time: It depends if you are a good cook or a bad one (aka 10 minutes)
Cook time: 30 minutes (give or take)
Serves: As much as you like! Need more? Add more ingredients... simple, no?
Description
Edit
One of my faves because it is healthy, easy, spicy and delicious!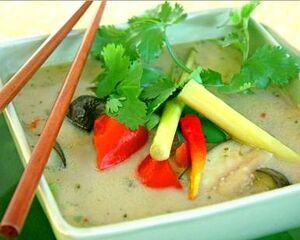 Ingredients
Edit
Directions
Edit
Bring sauce to a boil
Add protein
Add veggies
While you are doing 1 - 3 boil/steam your carb
Bada bing, bada boom.. you are done! Unless you burned it...
See more suggestions for Thai Green Curry. There is a bunch of possibilities.
Ad blocker interference detected!
Wikia is a free-to-use site that makes money from advertising. We have a modified experience for viewers using ad blockers

Wikia is not accessible if you've made further modifications. Remove the custom ad blocker rule(s) and the page will load as expected.