Description
Edit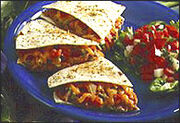 Ingredients
Edit
Directions
Edit
In 1-quart microwave-safe bowl, combine tomatoes, Onion and taco seasoning; mix well.
Heat on HIGH 2 minutes, stirring once.
Remove from microwave; stir in cilantro.
Spread 2 tablespoons of refried beans on half of tortilla.
Fold tortilla in half to encase filling.
Same with remaining tortillas.
Place 2 tortillas on a microwave-safe plate; until Cheese is melted.
Cut into wedges.
Other Links
Edit
See also
Edit
Ad blocker interference detected!
Wikia is a free-to-use site that makes money from advertising. We have a modified experience for viewers using ad blockers

Wikia is not accessible if you've made further modifications. Remove the custom ad blocker rule(s) and the page will load as expected.