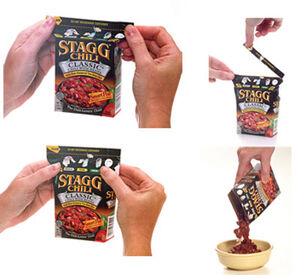 In limited markets across the United States, STAGG® Chili packaging and HORMEL® Chili packaging has been converted from cans to Tetra Recart cartons. Tetra Recart is a square carton package constructed out of a new paperboard laminate material designed for food products traditionally packed in cans, glass jars or pouches. Hormel Foods Corporation is the first and only company to offer chili in Tetra Recart packaging.
Ad blocker interference detected!
Wikia is a free-to-use site that makes money from advertising. We have a modified experience for viewers using ad blockers

Wikia is not accessible if you've made further modifications. Remove the custom ad blocker rule(s) and the page will load as expected.