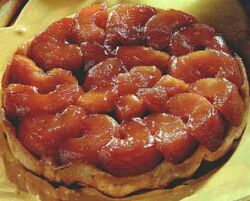 A famous French upside-down apple Tart made by covering the bottom of a shallow baking dish with butter and sugar, then apples and finally a pastry crust. While baking, the sugar and butter create a delicious caramel that becomes the topping when the tart is inverted onto a serving plate. Two French sisters who lived in the Loire Valley and earned their living making it created the tart. The French call this dessert tarte des demoiselles Tatin, the tart of two unmarried women named Tatin.
Ad blocker interference detected!
Wikia is a free-to-use site that makes money from advertising. We have a modified experience for viewers using ad blockers

Wikia is not accessible if you've made further modifications. Remove the custom ad blocker rule(s) and the page will load as expected.