Description
Edit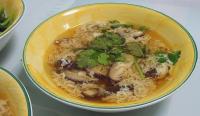 Egg drop soup. This recipe is from the book "At Home with Japanese Cooking" by Elizabeth Andoh. I haven't tried it, but am posting it for future use and safekeeping because I always seem to have leftover egg from various other recipes.
Ingredients
Edit
Directions
Edit
Heat stock in a saucepan and stir in salt and soy sauce.
If using mushrooms, wash and slice thinly and add to the stock.
Simmer for 3 – 4 minutes.
Bring soup to a boil and with a ladle or chopsticks stir the soup clockwise.
Pour in the beaten egg, remove the soup from the heat and stir counterclockwise.
Serve immediately.
If you cannot find the sansho/szechwan peppercorns, i imagine a pinch of standard black pepper (or a blend, which often contain sansho/szechwan peppercorns) will do.
Ad blocker interference detected!
Wikia is a free-to-use site that makes money from advertising. We have a modified experience for viewers using ad blockers

Wikia is not accessible if you've made further modifications. Remove the custom ad blocker rule(s) and the page will load as expected.