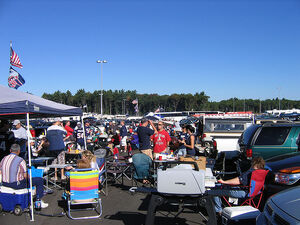 Tailgate Recipes
Edit
Try any of these recipes before your favorite sporting event! These recipes were selected to be easy to prepare and compliment any tailgate party -- large or small.
Traditionally, tailgating involves drinking, eating, and the grilling of various meat products -- and the opposing teams!
Popular tailgate party foods include burgers, sausages, hot dogs, salsa, guacamole, and any types of beans and salads.
Local Favorites
Edit
Football Foods
Edit
For your favorite football game, the best answer is at least one football-shaped food item.
Not just a huge sandwich...a real 'Football Hero'
'Super' Recipes
Edit
Ad blocker interference detected!
Wikia is a free-to-use site that makes money from advertising. We have a modified experience for viewers using ad blockers

Wikia is not accessible if you've made further modifications. Remove the custom ad blocker rule(s) and the page will load as expected.