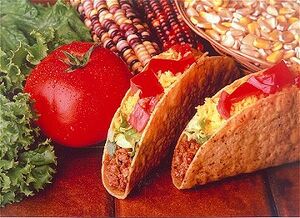 A
Taco
is a mexican dish consisting of a folded corn Tortilla filled with various ingredients such as beef, pork, chicken, chorizo sausage, tomatoes, lettuce, cheese, onion, guacamole, cilantro, refried beans and salsa. Most tacos in the United States are made with crisp (fried) tortilla shells, but there are also soft (pliable) versions. The latter are more likely to be found in the Southwest and California. Tacos may be eaten as an entree or snack.
See also
Edit
Ad blocker interference detected!
Wikia is a free-to-use site that makes money from advertising. We have a modified experience for viewers using ad blockers

Wikia is not accessible if you've made further modifications. Remove the custom ad blocker rule(s) and the page will load as expected.