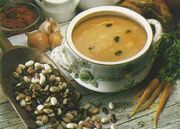 Description
Edit
Serbian bean soup
Ingredients
Edit
Directions
Edit
Next day, drain beans and put aside.
Put 2 quarts water in a large soup pot and in it cook bones and vegetables with salt over low heat for 2 hours.
Strain and save liquid.
Cook covered over low heat till beans are done.
Make little dumplings and put aside.
Melt the lard in a frying pan.
Wilt onion in it, then mix in the flour and cook over very low heat till the mixture is light brown.
Whip in ½ cup cold water.
Add to the almost ready bean soup and cook the soup over very low heat for at least 10 minutes longer.
Ad blocker interference detected!
Wikia is a free-to-use site that makes money from advertising. We have a modified experience for viewers using ad blockers

Wikia is not accessible if you've made further modifications. Remove the custom ad blocker rule(s) and the page will load as expected.