Ad blocker interference detected!
Wikia is a free-to-use site that makes money from advertising. We have a modified experience for viewers using ad blockers

Wikia is not accessible if you've made further modifications. Remove the custom ad blocker rule(s) and the page will load as expected.
Description
Edit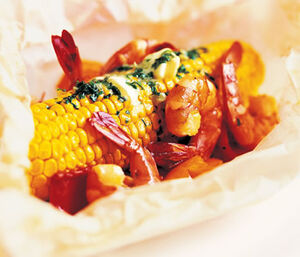 This recipe is Chilean, so I put it in the Mexican category. Can't wait to try this myself. It's from a special edition of Saveur, The Best of Tex-Mex Cooking. They recommend you use 2 cups dried navy beans soaked overnight, but I've altered the recipe and cooking time for canned. I also halved the amount of oil.
Ingredients
Edit
Directions
Edit
Cut the corn on the cob away from the leaves, leaving the leaves connected to the stalk.
Take the sweetcorn off of the cob.
Leave to one side.
Select the biggest, and cleanest leaves, from the stalk, and cut them off.
Altogether you will need 12 – 16 leaves.
Stir well, and season with salt(to taste).
Lay the leaves, so they are in a cross shape, with one in the middle, and two laying across it.
Add a large dollop of the sweetcorn mix into the middle, and fold up the leaves to enclose it (or make a 'parcel').
Tie up with string, making sure that the mix doesn't leak out.
Put the parcels into a large pot of boiling water, and boil for 45 minutes.
To serve, cut the string and open the parcel.
Sprinkle with icing sugar (optional).
Enjoy! (but remember, don't eat the leaves (or the string!))