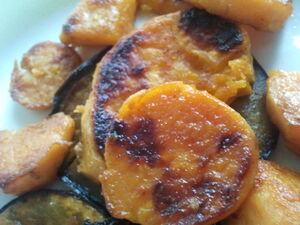 Prep Time: 5 minutes
Cook Time: 15 minutes
Yields: -
Description
Edit
Who does not like tasty, healthy vegetables which can be cooked within minutes? This is such a recipe which can be eaten as a fry substitute with your rice or as a snack, just as any way.
Ingredients
Edit
Salt- 1 tsp Sugar- 1 tsp Sweet potato- 1/2 of a medium sized vegetable. Chili powder- to taste Water- depends Oil- 2 tablespoons
Directions
Edit
Cut the Eggplant and Sweetpotatoes in the way you want to. Add the salt, sugar, chilli powder. Heat oil in a pan and place the vegetables into it and fry for 15 minutes. In case the vegetables start sticking to the pan you can add little water at a time. Cook with the lid, since it takes time for the sweet potato to soften.
Ad blocker interference detected!
Wikia is a free-to-use site that makes money from advertising. We have a modified experience for viewers using ad blockers

Wikia is not accessible if you've made further modifications. Remove the custom ad blocker rule(s) and the page will load as expected.