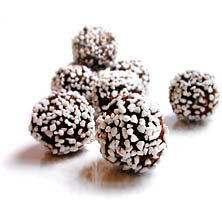 Description
Swedish Chocolate Balls from the Wikibooks Cookbook—original source of recipe, licensed under the GNU Free Documentation License
Cook Time: 20 minutes
Serves: 24
Ingredients
Directions
Mix oats, sugar, vanilla sugar, and cocoa in a large bowl.
Using your hands or a potato masher, incorporate the butter into the dry ingredients until the dough has an even consistency.
Add the coffee and mix until incorporated.
Fill a small bowl with flaked coconut or pearl sugar.
With your hands, roll the dough into 3 cm (1 inch) diameter balls.
Roll each ball in the coconut or pearl sugar and place on a tray.
Chill chocolate balls for at least one hour before serving.
Ad blocker interference detected!
Wikia is a free-to-use site that makes money from advertising. We have a modified experience for viewers using ad blockers

Wikia is not accessible if you've made further modifications. Remove the custom ad blocker rule(s) and the page will load as expected.