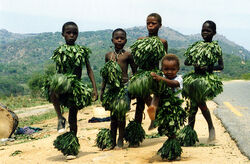 Swaziland Cooking and Food
Edit
Overview of Swazi Cuisine History and Swaziland and its Beauty
Edit
Swaziland cuisine combines traditional fruits and vegetables, unusual game and fish from the ocean, and a stand of cultures, colonies, trade routes, and history. Swaziland recipes include fish marinated in ginger, tomatoes, and cayenne, cooked in peanut oil. French cooking influence in Swaziland contain touches of lime juice, chopped vegetables including scallions, garlic, and marinades. peanut oil, palm oil, and often coconut oils are common dishes in Swaziland. Game, and Lamb, the famous Swaziland lobster, and a vast repertoire of fish add to a really sophisticated cuisine. Still, in the bush and less important towns from Swaziland the most important meals still are starch and stew based.
The main characteristic of local Swaziland meals is the use of starch as a heart; accompanied by a stew containing meat or vegetables. Swaziland recipes embrace fish marinated in ginger, tomatoes, and cayenne, cooked in peanut oil. Indian people had greatest influences about Swaziland cuisine with dals, Lentil soups, and curries. . The most unusual dish is the local Baobab tree. This thick trunked tree looks somewhat in silhouette like an upside down carrot, growing wider at the base. Baobab seeds are dried, crushed and ground, and the flesh of the fruit is used in powder form to thicken sauces. Swaziland is mainly known for its piripiri, or hot pepper dishes. Using the little greatly hot peppers of that country, lemon juice which has to be warm, adding together red freshly picked chilies, then salted and pounded to a paste. This pulp is returned to heat with more lemon juice and eaten over meats, fish, and shellfish. Swaziland cuisine is based also on yams, cornmeal, and a large variety of greens.
Swaziland is a small country bordered to the north, west and south by the Mpumulanga of South Africa and to the east by Mozambique. There are four major geographical regions: the Highveld Inkangala, the Peak Timbers in the northwest; the Middleveld, and the Lowveld, or bush country.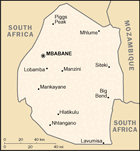 Preparation Methods for Swazi Cooking
Edit
Because the main source of protein for most inhabitants is fish, there are lots of preparation methods for it. Fish is consumed either fresh, sun-dried or smoked. The larger fish are hacked into smaller portions and dried in the sun, flat on mats or suspended. When smoked, they are subjected to such intense heat that they are almost charred outside. Using the right amount of spices for example is essential – either for spicing up the taste or for coloring the dish. Swaziland people prepare most of the meals with hands, because they believe in that hand gives to the food a good energy. The diversity of vegetables and cereals found in Swaziland is also noticed in the delicious dishes belonging to their cuisine. Meat is one of the main elements of most Swaziland dishes and cured and smoked hams are often parts of delicious dishes.
Special Equipment for Swazi Cooking
Edit
To cook most dishes in the Swaziland cuisine you don't need any special equipment. The essential items you should have are: a baker spatula, a non-stick pan, a frying pan, a stew pan, some food storage containers, a whisk, a ladle, a garlic press, a Potato masher, some mixing bowls, a few wooden mixing spoons and some high heat turners. If you have all this equipment, you can cook almost any Swaziland recipe.
In Swaziland, most families have mud stoves outside the house, where they cook their food. Because smoked fish is one of the country's main dishes, in most homes you can also find a smoking stove. Another favorite way of preparing fish in Swaziland is by drying it. A special cooking tool that can be found in the Swaziland kitchen is the biltong box, which is used for drying out large strips of fish. Fuels used for cooking in rural households in Swaziland are firewood, charcoal, kerosene, cow dung, and crop residues.
Swazi Food Traditions and Festivals
Edit
A special dish served in special occasions is Lamb stewed in peanuts sauce and also the famous Gerdara fish stew which are both very old recipes. These special recipes are used only at important occasions like New Year Day or special and traditional festivals and holidays for example: Birthday of the Late King Sobhuza on 22 July, September six when is Somhlolo Day or Independence Day, December 25 at Christmas Day or April 19 when is a special festival for Swaziland people the Birthday of King Mswati. In December is Incwala which is Fruit Ceremony; every year at a time vigilantly chosen by astrologers, this four-day ceremony takes place, culminating in a ritual during which the king eats the first fruit of the new season. The ceremony confers the permission of their ancestors on the nation's utilization of these fruits.