Description
Edit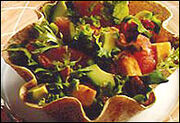 Ingredients
Edit
Directions
Edit
Preheat oven to 400 degrees F.
Spray both sides of tortillas with vegetable spray, then press each into large muffin tins or custard cups.
Bake for 10 minutes or until golden.
Remove from heat and cool.
In a medium bowl, combine Chicken, dressing and cocktail sauce.
Cover and chill for 20 minutes.
Stir in grapefruit, avocado and pecans.
To serve, arrange greens in tortilla cups and spoon salad on top.
Other Links
Edit
See also
Edit
Ad blocker interference detected!
Wikia is a free-to-use site that makes money from advertising. We have a modified experience for viewers using ad blockers

Wikia is not accessible if you've made further modifications. Remove the custom ad blocker rule(s) and the page will load as expected.