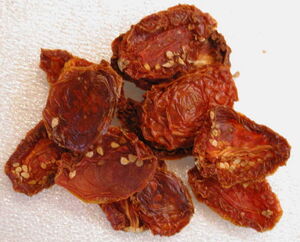 About Sun-dried tomatoes
Edit
Sun dried tomatoes have been sliced crosswise or halved, then dried in the sun to develop their intense, sweet-tart flavor and pleasantly chewy texture. They are available dry or packed in olive oil, sometimes with herbs and spices. The dry type should be soaked in liquid before use.
Ad blocker interference detected!
Wikia is a free-to-use site that makes money from advertising. We have a modified experience for viewers using ad blockers

Wikia is not accessible if you've made further modifications. Remove the custom ad blocker rule(s) and the page will load as expected.