Description
Edit
Yum!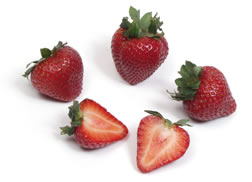 Ingredients
Edit
Directions
Edit
Wash the strawberries and remove the stems. Cut one-half of them into thin slices and place them in the bottoms of six, 8-ounce custard cups, dividing equally. Soften the gelatin in the cool water for 5 minutes. Add the boiling water to the softened gelatin and stir until completely dissolved. Combine the orange juice concentrate, milk, vanilla and Sugar and mix well. Stir in the dissolved gelatin and pour the mixture over the sliced strawberries in the custard cups. Place in the refrigerator for about 2 hours, or until completely jelled: Halve the remaining strawberries; divide equally among cups. Garnish with additional whole strawberries if desired. Makes 6 servings
Other Links
Edit
See also
Edit
Ad blocker interference detected!
Wikia is a free-to-use site that makes money from advertising. We have a modified experience for viewers using ad blockers

Wikia is not accessible if you've made further modifications. Remove the custom ad blocker rule(s) and the page will load as expected.