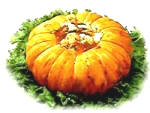 Ingredients
Edit
Directions
Edit
Preheat oven to 350 °F.
Cut a large hole on the top of squash.
Remove seeds and fiber, cleaning thoroughly inside.
Place cut side down in a ceramic casserole pan with a small amount of water in bottom.
Bake for about 45 to 50 minutes, or until squash is tender and can be pierced with a fork.
Meanwhile, dissolve the corn starch in a cup half filled with tomato purée.
Heat the margarine in a large saucepan, combine the grated onion, beef bouillon.
Fry the onion and add the tomato puree, previously dissolved cornstarch and thaw shrimps.
Bring the mixture to boil and cook for 7 minutes.
Add salt to taste.
Take the saucepan out of the heat, stir in the table cream, and set aside.
Carefully remove the baked squash from the oven turn the squash hole up and remove any excess o water remaining in the casserole.
Fill in the hole with half of the cream cheese, fill in the shrimps and place the remaining cheese on the top.
Ad blocker interference detected!
Wikia is a free-to-use site that makes money from advertising. We have a modified experience for viewers using ad blockers

Wikia is not accessible if you've made further modifications. Remove the custom ad blocker rule(s) and the page will load as expected.