Description
Edit
This recipe may take a while to prepare, but the more realistic you make the Pasta look like a snake, the more points you're going to score with your kids.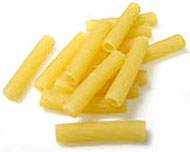 Ingredients
Edit
Directions
Edit
Cook rigatoni Pasta according to package directions. When cooked, rinse Pasta in cold water. Carefully fill each rigatoni with Cheese. Make sure the Cheese doesn't leak on the other end. Put 6 to 8 cheese-filled snakes on a plate, curved like a snake that's been chopped to pieces. Use a fork to spread lines of barbecue sauce along the top of each snake. To form snake heads, use barbecue sauce to glue two black peppercorn eyes on one end of each snake. Peel off carrot skin. Then peel several narrow strips and use those as snake tongues. Slice along one end of the carrot strip to make it look like a snake's forked tongue. Serve to eager kids.
Other Links
Edit
See also
Edit
Ad blocker interference detected!
Wikia is a free-to-use site that makes money from advertising. We have a modified experience for viewers using ad blockers

Wikia is not accessible if you've made further modifications. Remove the custom ad blocker rule(s) and the page will load as expected.