Description
Edit
Ingredients
Edit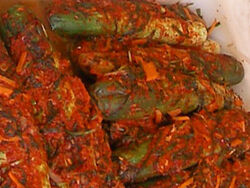 Directions
Edit
1. Wash cucumbers, rub with coarse salt and let stand 20 to 30 minutes. Wipe dry.
2. Combine radish, table salt, sugar, red pepper powder, garlic, ginger and scallions. Cut cucumbers into two-inch chunks. Slit each piece down middle but not through end. Repeat at right angle to form cross. Fill with radish mixture.
3. Bring ¼ cup water to a boil, and pour into empty radish-mixing bowl. Swirl out, and pour water over cucumbers.
4. Place cucumbers in pan in single layer, sprinkle with sesame seeds, cover with plastic wrap and set aside. Serve when cool, or reserve for later use.
Other Links
Edit
See also
Edit
Ad blocker interference detected!
Wikia is a free-to-use site that makes money from advertising. We have a modified experience for viewers using ad blockers

Wikia is not accessible if you've made further modifications. Remove the custom ad blocker rule(s) and the page will load as expected.