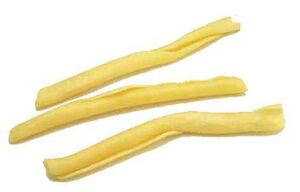 Name Variations
Edit
About Strozzapreti
Edit
Wikipedia Article About Strozzapreti on Wikipedia
Strozzapreti is a kind of pasta. Its name is from the Italian for "priest choker", and is said to reflect the cook's wishes that priests choke on the food.
The pasta's shape that resembles a rolled towel.
Ad blocker interference detected!
Wikia is a free-to-use site that makes money from advertising. We have a modified experience for viewers using ad blockers

Wikia is not accessible if you've made further modifications. Remove the custom ad blocker rule(s) and the page will load as expected.