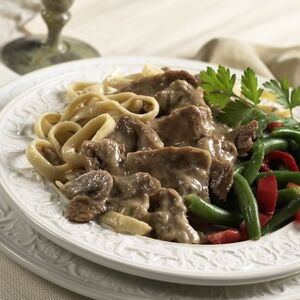 Named after 19th century Russian diplomat Count Paul Stroganov, this dish consists of thin slices of tender beef (usually tenderloin or top loin), onions and sliced mushrooms, all quickly sautéed in butter and combined with a sour cream sauce. Rice pilaf usually accompanies Stroganoff.
Ad blocker interference detected!
Wikia is a free-to-use site that makes money from advertising. We have a modified experience for viewers using ad blockers

Wikia is not accessible if you've made further modifications. Remove the custom ad blocker rule(s) and the page will load as expected.