Description
Edit
A crisp combination of authentic bread and strawberries is made with cream cheese and honey and is great for breakfast or dessert, as it delivers a divine aroma that it relishes. Leftover fruits work for this recipe too, while color, flavor, and quality are key.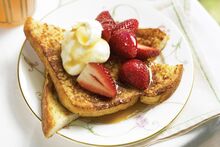 Ingredients
Edit
Directions
Edit
Spread a thin layer of light cream cheese on whole grain toast.
Top with sliced California strawberries and drizzle with honey. Serve cold and plain or with other desserts or fruits.
Ad blocker interference detected!
Wikia is a free-to-use site that makes money from advertising. We have a modified experience for viewers using ad blockers

Wikia is not accessible if you've made further modifications. Remove the custom ad blocker rule(s) and the page will load as expected.