Description
Edit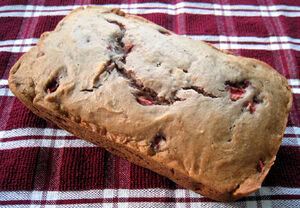 This recipe was given to me by my mother, and makes 2 large loaves, or 4 to 6 smaller loaves, depending upon the size of the pans. As a side note, the recipe calls for 20 ounces of frozen strawberries, but since 10- and 20-ounce packages are practically nonexistent nowadays, you can use either a 16-ounce or 24-ounce container. Personally, I use 24 ounces for better flavor.
Ingredients
Edit
Directions
Edit
Combine first 5 ingredients; mix well.
Combine eggs, oil, and strawberries; add to dry ingredients, mixing well.
Pour batter into 2 greased and floured 9- x 5- x 3-inch loaf pans.
Bake at 350°F for 1 hour or until a wooden pick inserted in the center comes out clean.
Ad blocker interference detected!
Wikia is a free-to-use site that makes money from advertising. We have a modified experience for viewers using ad blockers

Wikia is not accessible if you've made further modifications. Remove the custom ad blocker rule(s) and the page will load as expected.