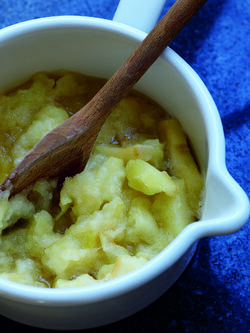 Ingredients
Edit
500g Bramley Apples, quartered cored and peeled,
50g Caster sugar,
1 tbsp water
Preparation
Edit
Slice the apples and place in a medium pan with the sugar and water.
Cover the pan and put it on the hob over a medium heat.
When it comes to the boil, put the timer on for 5 minutes and leave to cook.
Give it a stir after about 4 minutes, the apple slices will start to dissolve and become fluffy. Cook for a further 1 – 2 minutes or until the apple is fluffy but a few chunks are still visible.
Taste the mixture adding more sugar to your taste if required.
Leave to cool then spoon into a bowl and refrigerate for up to 1 week.
Ad blocker interference detected!
Wikia is a free-to-use site that makes money from advertising. We have a modified experience for viewers using ad blockers

Wikia is not accessible if you've made further modifications. Remove the custom ad blocker rule(s) and the page will load as expected.