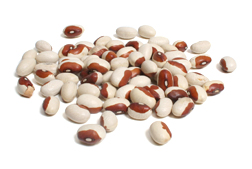 Name Variations
Edit
Steuben yellow eye bean
butterscotch calypso bean
molasses face bean
Maine yellow eye
About Steuben yellow bean
Edit
Steuben yellow bean is an heirloom bean is sometimes used to make Boston baked beans. It is not actually yellow in color, but has a multi-colored look, displaying reddish brown and black hues over a white background. Substitutes for this bean include navy beans or Great Northern beans.
Ad blocker interference detected!
Wikia is a free-to-use site that makes money from advertising. We have a modified experience for viewers using ad blockers

Wikia is not accessible if you've made further modifications. Remove the custom ad blocker rule(s) and the page will load as expected.