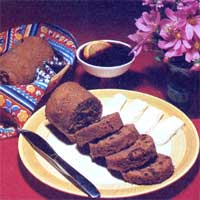 Boston brown bread
is probably the most famous steamed bread in the United States. This type of bread is made by placing a batter in a covered container on a rack set over gently boiling water in a large pot. The pot is covered and the bread steamed for about 3 hours. It can also be made in a pressure cooker in about half the time. The bread doesn't require a special container in which to be steamed-a 12-ounce coffee can covered with aluminum foil works nicely. The characteristic texture of steamed breads is moist and tender.
Ad blocker interference detected!
Wikia is a free-to-use site that makes money from advertising. We have a modified experience for viewers using ad blockers

Wikia is not accessible if you've made further modifications. Remove the custom ad blocker rule(s) and the page will load as expected.