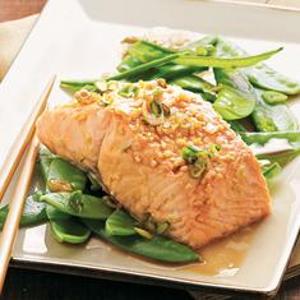 Description
Edit
Contributed by Catsrecipes Y-Group
Source: Prevention Magazine May 2006
4 servings
Ingredients
Edit
Directions
Edit
Rub fillets with ginger and garlic.
Coat steamer basket with cooking spray and arrange fillets in basket.
In saucepan, bring 2" water to boil.
Place steamer basket in saucepan and steam, covered 8 minutes.
Meanwhile, make sauce: combine lime juice, soy sauce, sesame oil and scallions in small bowl.
Set aside.
Top fish with snow peas and steam, covered, until fish is cooked through and snow peas are crisp-tender, about 4 minutes longer.
To serve, make bed of snow peas, top with fish and drizzle all with sauce.
Nutritional information
Edit
Per Serving: 271 cal | 26 g protein | 10 g carb | 14 g fat | 3 g sat fat | 67 mg chol | 2 g fiber | 162 mg sod
Ad blocker interference detected!
Wikia is a free-to-use site that makes money from advertising. We have a modified experience for viewers using ad blockers

Wikia is not accessible if you've made further modifications. Remove the custom ad blocker rule(s) and the page will load as expected.