Description
Edit
This gives a nice and wholesome soup, and it is for the whole family.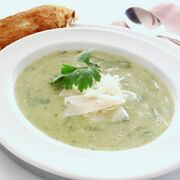 Ingredients
Edit
Directions
Edit
Peel the squash and cut into 1 cm dice.
Add the chicken stock and leave to simmer for 10 minutes, until the squash is tender.
Whip the Parmesan cheese and the egg yolks together and pour the mix over the soup.
After this, the soup must not boil.
Ad blocker interference detected!
Wikia is a free-to-use site that makes money from advertising. We have a modified experience for viewers using ad blockers

Wikia is not accessible if you've made further modifications. Remove the custom ad blocker rule(s) and the page will load as expected.