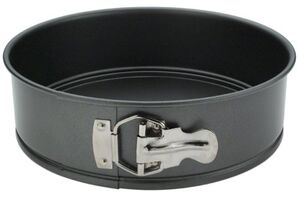 A round pan with high, straight sides (2% to 3 inches) that expand with the aid of a spring or clamp. The separate bottom of the pan can be removed from the sides when the clamp is released. This allows cakes, tortes or cheesecakes that might other wise be difficult to remove from the pan to be extricated easily by simply removing the pan's sides.
Ad blocker interference detected!
Wikia is a free-to-use site that makes money from advertising. We have a modified experience for viewers using ad blockers

Wikia is not accessible if you've made further modifications. Remove the custom ad blocker rule(s) and the page will load as expected.