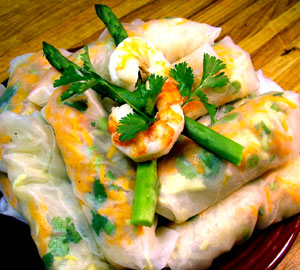 Spring roll wrappers are paper-thin noodle wrappers used to encase meat, vegetable, and other fillings for the Asian dish known as spring rolls or for other recipes. They are sold in 1-pound (500 g) packages containing 2½ to 3 dozen square or circular wrappers measuring about 8 – 8½ inches (21.5 cm) across. Look for them in well-stocked grocery stores and Asian markets.
An Asian noodle wrapper that is paper thin, used to wrap meat, vegetables and other fillings, which are then deep-fried in the wrapper. They are sold in packages containing several dozen squares or rounds, which are approximately 8 inches across and found in Asian markets and in some supermarkets. The wrapper may be made of dough or rice paper, which is common in Vietnam as other Asian countries.
Ad blocker interference detected!
Wikia is a free-to-use site that makes money from advertising. We have a modified experience for viewers using ad blockers

Wikia is not accessible if you've made further modifications. Remove the custom ad blocker rule(s) and the page will load as expected.