Description
Edit
This vibrant green-colored soup has a fresher taste than the modern/simplified/traditional split pea soup. The addition of mint gives it an added crispness of flavor.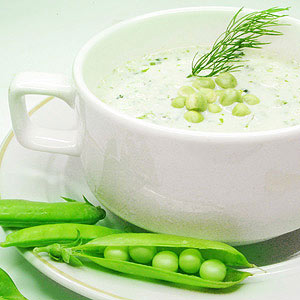 Ingredients
Edit
Directions
Edit
Coarsely chop fennel and place in a large saucepan.
Add broth and bring to a boil; reduce heat and simmer 20 minutes, until fennel is very soft.
Strain broth into a large bowl and set aside.
In a blender, starting on low speed and increasing to high, purée peas, shallots and fennel, using reserved fennel broth to about 1-inch under the solids (simply depending on the size of the blender, this may take 2 to 3 batches).
Soup should be smooth and thick, but still have some texture. Place soup back into a sauce pot on medium heat and bring to a simmer.
Serve hot or chill in an airtight container until cold.
Nutritional Information
Edit
Servings: 4 scoops per ramekin or bowl