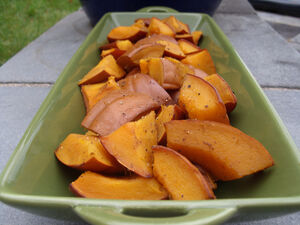 Ingredients:
Edit
1 sugar pumpkin
1/4 teaspoon pepper
1/4 teaspoon cumin
1/4 teaspoon rue
1 1/2 cup vegetable or chicken stock
1 Tablespoon vinegar
1 Tablespoon port
Directions
Edit
Cut the pumpkin into uniform pieces and be sure to remove all the seeds. Place the pumpkin pieces in a saucepan, cover them with water, and boil until they are tender. Strain the pumpkin when it gets tender and lay it on a paper towel. Gently dry the fruit with another piece of paper towel, and arrange in a baking dish.
In a small bowl, combine your remaining ingredients and pour the liquid over your pumpkin. Cook the mix in a 375F oven for about 20 minutes, or until the pumpkin has started to caramelize. After you take the dish out of the oven, lightly dust the dish with additional pepper and serve.
External Links
Edit
Ad blocker interference detected!
Wikia is a free-to-use site that makes money from advertising. We have a modified experience for viewers using ad blockers

Wikia is not accessible if you've made further modifications. Remove the custom ad blocker rule(s) and the page will load as expected.