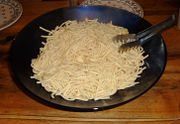 Name Variations
Edit
spaetzle
spätzle
spatzele
spetzli
About Spaetzle
Edit
Wikipedia Article About Spaetzle on Wikipedia
Spätzle (German, sometimes explained as being a diminutive of Spatz "small sparrows") are similar to noodles and much used in southern Germany, western Austria, Switzerland, Alsace and sometimes also in Italy (there they are named "Troffi"). They are fabricated by grating or scraping dough into boiling water and continuously sieving out the batches that are cooked. The dough is a simple affair, consisting of eggs, flour, and salt. Some Spätzle recipes also contain milk or water.
The classic variety are "button" Spätzle (Knöpfle), which are lentil-shaped. If the dough is of firmer consistency, elongated (more noodle-like) Spätzle may be formed. This is the variety that can be purchased dried and packaged.
Ad blocker interference detected!
Wikia is a free-to-use site that makes money from advertising. We have a modified experience for viewers using ad blockers

Wikia is not accessible if you've made further modifications. Remove the custom ad blocker rule(s) and the page will load as expected.