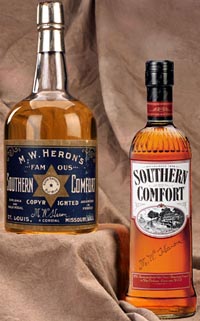 About Southern Comfort
Edit
Wikipedia Article About Southern Comfort on Wikipedia
Southern Comfort a peach flavoured bourbon liqueur. Itis used in the creation of many popular cocktails, including "SoCo Lime", "Alabama Slammer", "Red Death", "A Piece of Ass", "Red Devil", "Greek Sex on the Beach", "Crash & Burn", and "57 Chevy".
In an advertising campaign, the company suggests mixing it with lime juice to make a SoCo Lime.
Ad blocker interference detected!
Wikia is a free-to-use site that makes money from advertising. We have a modified experience for viewers using ad blockers

Wikia is not accessible if you've made further modifications. Remove the custom ad blocker rule(s) and the page will load as expected.