Description
Edit
This version of cheese sauce is mixed with sour cream for extra zest. Cream cheese sometimes works for this recipe, too, and is great with seafood, chips, vegetables, meat, and poultry.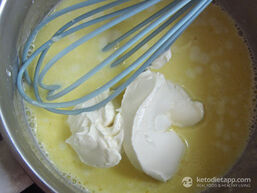 Ingredients
Edit
4 tablespoons margarine
1 ½ cup milk, regular or low-fat only
1 cup cream cheese, optional
1 cup grated cheese (Cheddar, Swiss, Parmesan, Provolone, or Colby) or 2 cups cheese sauce
¼ cup flour
1 cup sour cream
Directions
Edit
Stir in ¼ cup flour with 4 tablespoons margarine; add gradually while stirring.
Cook until mixture thickens. Add 1 ½ cup milk, 1 cup cream cheese (if desired), 1 cup grated cheese (or 2 cups cheese sauce), and 1 cup sour cream to the flour-margarine mixture.
Cook until cheese simmers. Pour into a bowl.
Serve hot and use as a dip. Reserve the cheese-based sauce in the refrigerator but wrap this with the aluminium foil.
Ad blocker interference detected!
Wikia is a free-to-use site that makes money from advertising. We have a modified experience for viewers using ad blockers

Wikia is not accessible if you've made further modifications. Remove the custom ad blocker rule(s) and the page will load as expected.