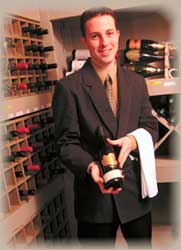 The French term for a steward or waiter in charge of wine. For hundreds of years, sommeliers were responsible for the cellaring and serving of wines for royalty. Eventually the tradition of the sommelier spread to restaurants, where such an individual is expected to have extensive knowledge of wines and their suitability with various dishes.
Ad blocker interference detected!
Wikia is a free-to-use site that makes money from advertising. We have a modified experience for viewers using ad blockers

Wikia is not accessible if you've made further modifications. Remove the custom ad blocker rule(s) and the page will load as expected.