---
This article needs some work. You can help by adding some more information to it.
---
Solomon Islands - Cooking and Food
Edit
Overview of Solomon Island Cuisine History
Edit
The most probably moment that the Solomon Islands were discovered was about 5.000 years ago. Since then many people visited these lands and left their own mark over these Islands cuisine. First influences came from the Spanish people who introduced this country to the costume of growing and eating cattle. Asian and Indian people added to the Solomon Islands cuisine all kind of special ingredients, spices and exotic vegetables and fruits. Chefs all over this country prefers to stick and respect all the old traditions and customs preparing dishes in unique ways and with exquisite flavors. Somewhere at the beginning of the 19th century, this country was ruled by the English and due to this fact this country cuisine suffered many improvements. Nowadays, the Solomon Islands is a country where the main occupations of the natives are fishing and agriculture. Due to the agricultural sector coconuts, cassava, sweet potatoes, and a large variety of fruits and vegetables are being produced.
Cuisines of Solomon Islands
Edit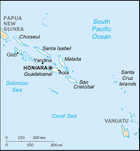 What is the food?? of cooking techniques such as baking, boiling or frying. Special dishes are made using all kinds of ingredients. Fish meat is a staple in the Solomon Islands cuisine. Usually any meat is cooked and served with sweet potatoes,
rice
,
taro
roots
cassava
,
taro
leaves and many other vegetables. Beside the local traditional cuisine many dishes from both European and Asian culture can be easily found and served in any restaurant or household of this country. Also very famous in this country is the
breadfruit
or how the locals call it Ulu. The
breadfruit
can be served with any dish. A famous local dessert is made by mixing bananas with many other exotic fruits, and wrapped in pearl cassavas and served with
whipped cream
or caramel.
Preparation Methods for Solomonian Cooking
Edit
Solomon Islands cuisine have developed during the time various cooking methods and techniques some of them borrowed from their neighbors and developed from their own traditional dishes. While there are no specific or unique preparation methods for Solomon Island cooking, we should point out that attention to detail is important in the Solomon Island cuisine. Using the right amount of spices for example is essential – either for spicing up the taste or for coloring the dish. The diversity of vegetables and cereals found in Solomon Island is also noticed in the delicious dishes belonging to their cuisine. The visual attractiveness of the dish is also important, and a balance between colors and proportion differentiates. Each traditional dish has a special cooking method, which is more or less general in all of Solomon Island's regions. Meat is one of the main elements of most Solomon Island dishes and cured and smoked hams are often parts of delicious dishes.
Special Equipment for Solomonian Cooking
Edit
Solomon Island's cuisine is very simple but extremely tasteful. In creating any traditional dish there are few special cooking tools needed like cake pans, can openers, colanders, egg rings, poachers and holders, food dishers & portioners, food pans & food containers. Other kitchen utensils, such as food scales, food scoops and fryer baskets & accessories, are used in Solomon Island cuisine in order to produce the most sophisticated dishes. You should consider insulated food carriers if you are transporting the food and a full set of kitchen linens and uniforms if you wish to look like a pro. Here are a few other items that will come handy while cooking Solomon Island food: juicers, kitchen knives, kitchen slicers, kitchen thermometers, measuring cups & measuring spoons, miscellaneous utensils, mixing bowls and skimmers & strainers. Essential utensils like serving spoons, spatulas, forks, turners, scrapers and tongs should also be part of your cooking "arsenal".
Solomonian Food Traditions and Festivals
Edit
Any special event, holiday or celebration in Solomon Islands are held by respecting old traditions. Special dishes are cooked using old methods and ingredients in order to create a paradise of tastes and flavors. Here are just some of the main public holidays that are celebrated every year in Solomon Islands : New Year's Day, Easter, Independence Day, National Day of Thanksgiving, Queen's Birthday and of course Christmas. A special dish served during any celebration is called poi and it is made with fermented taro roots. This dish can be served with Chicken or fish meat or made like a porridge. Also used a lot during holidays is tapoica or Pearl cassava and manly this is served like a pudding.
People in Solomonian Food
Edit
Are you into Solomonian Cooking and would like to be interviewed?
Many chefs from this tropical country have the gift of creatively use the basic ingredients and cooking methods in order to create the most original and delicious food variations.
Solomon Island chefs are passionate about their traditional dishes and they enjoy presenting them to foreigners who has never tasted them before. Whether they are cooking dishes that go back in time for centuries or brand new, modern dishes, and this is readily noticeable in the unforgettable taste of their cooking.
Ad blocker interference detected!
Wikia is a free-to-use site that makes money from advertising. We have a modified experience for viewers using ad blockers

Wikia is not accessible if you've made further modifications. Remove the custom ad blocker rule(s) and the page will load as expected.