Description
Edit
Sweet, smoky and super tasty! The smokehouse almonds are the secret ingredient.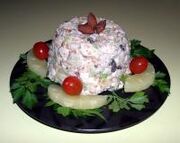 Ingredients
Edit
3 cups boneless Chicken breasts, cooked and shredded or finely chopped
3/4 cup celery, diced
1 cup pineapple tidbits, drained
1 cup almonds, smoked flavor,finely chopped (almost ground)
1/2 cup Raisins
1 cup Miracle Whip
Directions
Edit
Toss the first five ingredients together until the almond chips coat all of the ingredients. Fold in the Miracle Whip and blend well. Chill for a minimum of an hour before serving in order to let the flavors develop (cooking time is actually chill time). Serve a large scoop on a bed of lettuce with buttery crackers.
Other Links
Edit
See also
Edit
Ad blocker interference detected!
Wikia is a free-to-use site that makes money from advertising. We have a modified experience for viewers using ad blockers

Wikia is not accessible if you've made further modifications. Remove the custom ad blocker rule(s) and the page will load as expected.